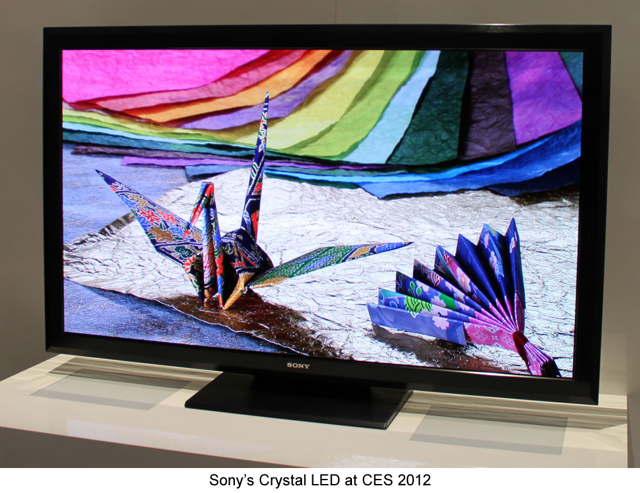 The latest report from South Korea is that Apple (NASDAQ:AAPL ) and Samsung (OTC:SSNLF ) have reached a deal for OLED screens for the next-generation iPhone. In this article, I examine the prospects for an OLED iPhone, and compare OLED to competing display technologies.
Source: Samsung Samsung Admits That LCD Can be Better Than OLED The source for the latest report is the South Korean Pulse News , which claimed that Samsung Display had landed a deal to supply 60 million 5-inch OLED displays for the next-generation iPhone. The Pulse News report is similar to a Korea Herald report from last April that Samsung would supply 100 million 5.5-inch OLED screens for the iPhone, which I subsequently wrote about. Notice the common geographic source for the reports? They really come off as advertising blurbs for Samsung. For instance, the Pulse report states: It is the first time that Apple largely relied on one supplier for its darling iPhone series. . . An OLED is one of the priciest components for a smartphone. It largely replaced liquid crystal displays in smartphone manufacturing thanks to its bendability and flexibility. Samsung Display, which injected a record high of 10 trillion won to ramp up OLED panel production last year, will need another mega investment this year to keep up with Apple and other clients' flooding demand. We certainly can't fault Korea's business media for veering off message. The message is consistently the same. Everyone is flocking to Samsung's OLED screens because they are superior to LCD, and Apple is belatedly getting on board.
Several times, I've reviewed the pros and cons of LCD vs. OLED, most recently last November in conjunction with my article on Xiaomi's innovative edge-to-edge LCD display. I don't want to belabor the subject, except to point out that Samsung itself recently confirmed much of what I've been saying. At CES this year, Samsung announced its new line of "QLED" televisions. It took the media a little digging to figure out what Samsung meant by QLED, but eventually, it was determined that Samsung's QLED TVs were LED backlit LCD screens enhanced with quantum dots. The effect of the quantum dots is to greatly increase the color gamut of the TVs. Apple recently introduced enhanced color gamut for the iPhone 7 (DCI-P3) and it wouldn't surprise me if quantum dots are used in the displays. At CES, Samsung was anxious to point out areas where its TVs were superior to rival LG's OLED TVs. Samsung pointed to higher overall brightness as well as better color gamut. As is typical, Samsung couldn't point out that its TVs provided higher contrast. I've maintained that for typical mobile device usage cases, the Apple LCD screen is a better fit. With a white or light color screen background, it's brighter than OLED, while being more energy efficient. The uses of color gamut enhancing technologies such as quantum dots eliminates what had been a major advantage for OLED. And finally, for normal indoor room illumination, the contrast advantage of OLED is more or less obviated by light reflection from the screen itself. That leaves the thinness of the OLED display as an advantage, but even this doesn't necessarily translate into a thinner device. For instance, the iPhone 7 is 0.02 inch thinner than the Galaxy S7. Beyond OLED I keep coming back to the relative technical merits of LCD vs. OLED because no one seems to want to address the issue in the tech business media. One can go to almost any Apple fan site and it's widely accepted that the next iPhone (8 or X) will feature a Samsung OLED screen. It's almost become an article of faith.
Apple has kept using LCD screens for years explicitly because it felt that the technology was superior. I'm inclined to think that Apple wouldn't switch to OLED unless it were convinced that it truly offered superior performance. And the case for superior performance just isn't very solid. I also continue to find it implausible on business considerations that Apple would want to give Samsung billions of dollars in revenue and not a small amount of profit. Especially, for what appears to be a very marginal advantage. Perhaps the best argument against OLED may be that Apple already has something better in development. This was disclosed in a patent granted on February 14 for an "Interactive Display Panel with IR Diodes." The patent was originally filed by LuxVue, which Apple subsequently acquired. I wrote about the LuxVue acquisition last June in the context of a shift in technology R&D at Apple. LuxVue had been developing what's called microLED technology. In general terms, microLED displays are composed of self-emissive LED devices as OLED displays are, but the LEDs are inorganic materials such as Gallium Nitride, used to make blue LEDs. In case the reader regards microLEDs as science fiction, there's a good explanatory article that, among other things, discusses a Sony microLED TV (called Crystal LED) that it showed at CES in 2012.
The advantage of microLED is that it is capable of the screen brightness and longevity of LCD, but has the contrast ratio of OLED. That's a very powerful combination. What's interesting about the Apple patent is that it highlights some features that have been rumored for the iPhone 8. These include the ability to perform fingerprint identification anywhere on the screen, eliminating the need for the Home Button Touch ID sensor.
There seems to have been a tendency to mix and match rumored features for the iPhone 8 without regard to technical feasibility. Most likely the fingerprint sensing technology described in the patent would not be applicable to an OLED display. Does this mean that Apple is planning some form of microLED display for the iPhone 8? I'm pretty sure it doesn't. The technical hurdle with microLED is being able to mass produce screens economically. Most of LuxVue's patent portfolio involved fabrication techniques. My tentative conclusion, that I reached last summer, still holds, that Apple is working towards microLED screens, for which it will have patented technology and fabrication trade secrets. This is probably some years away, but it's probably within the product planning window (~5 years) for Apple to start incorporating it into future product plans. So where does this leave OLED? I think it leaves OLED as a backup in case microLED gets delayed. Is there a plan for OLED in this year's iPhones? I doubt it, despite the massive weight of rumors to the contrary. The business and technical cases for the use of OLED just aren't there. Investor Takeaway One possible scenario is that the iPhone 8 comes out with an LCD screen, and the entire technoverse rolls its eyes and bemoans the lack of innovation. This is a pretty ugly scenario, and one that Apple might want to avoid. So it's not inconceivable that Apple might decide to offer an iPhone model with an OLED screen just to placate consumer expectations. I'll continue to monitor the Apple Rumorverse (yes, it exists), to see if persuasive evidence of an OLED screen iPhone makes an appearance. But I continue to be a little concerned that Apple is just being set up by its rival, Samsung, through some carefully placed "leaks." Whatever direction Apple takes in iPhone display technology, for the iPhone 8 and beyond, I'm confident that Apple will choose the best technology. Apple generally has pretty good taste in that regard. I continue to be long Apple and recommend it as a buy.
Disclosure: I am/we are long AAPL.
I wrote this article myself, and it expresses my own opinions. I am not receiving compensation for it (other than from Seeking Alpha). I have no business relationship with any company whose stock is mentioned in this article.
Editor's Note: This article discusses one or more securities that do not trade on a major U.S. exchange. Please be aware of the risks associated with these stocks.
Category: Tech World News