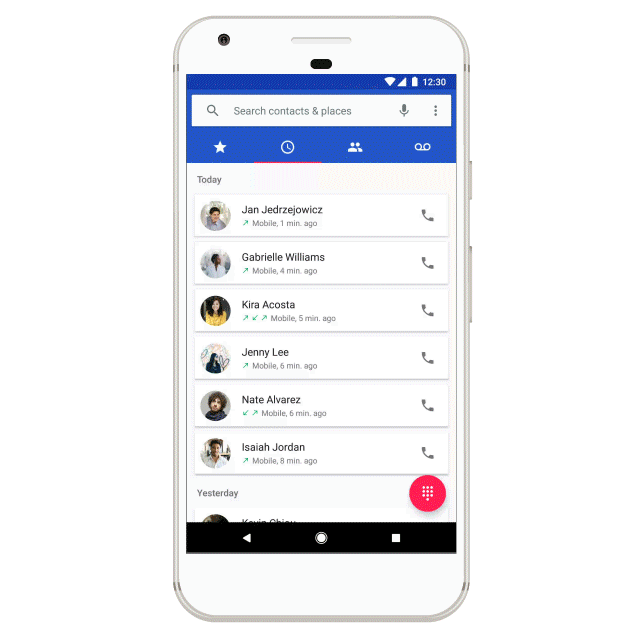 Internet search giant Google has beginning to integrate its Duo video calling app feature in its Phone, Contacts, and Android Messages apps. This feature will now be rolled out to first-generation Pixel, Android One, and Nexus devices, and it will also be available on Pixel 2 phones.
While the option to place the video call will be available in call history and search in the phone app, the contacts app will have this option next to the person's name and the Messages app will have this option in your conversation. This is similar to what Apple offers with its FaceTime app where you can make a video call directly through the Contacts app.
If you and the person you're video calling are on a carrier that supports ViLTE video calling, your video calls will be routed through the carrier's ViLTE service. If not, Google Duo will connect your video call to anyone with the app installed, said the company in a blogpost.
As of now, there is no information about this integration for other Android handsets.
Earlier this year, Google rolled out an update to its messaging app Allo that enables users make video calls directly within the chat window, the feature of Duo.
Launched last year in August, Google Duo is a free video calling service for phones running on Android operating system as well as Apple's iPhones.
Like FaceTime for iPhones, Duo only requires a person's phone number to connect. Many other services require both participants to have account logins to use their video-calling options.
As mentioned earlier, Google's recently launched Pixel 2 phones — Pixel 2 and Pixel 2 XL — will be the one of the first few smartphones to get this feature. The smartphones succeed the company's Pixel nad Pixel XL smartphones launched last year. The duo have already gone on pre-orders in a few countries and will start shipping on October 19. Though Google said that the devices will arrive in India in the first phase, the India dates are different from the US and that of some other countries. Google has also announced the India pricing of the two smartphones.
The Pixel 2 will be priced at Rs 61,000 and Rs 70,000 for the 64GB and 128GB storage variants respectively in India. The bigger-screen Pixel 2 XL will cost Rs 73,000 for 64GB variant and Rs 82,000 for the 128GB storage models.
Interested customers can pre-order the Pixel 2 and the Pixel 2 XL in India starting October 26. Both the handsets will be made available with both online and offline retailers. The Pixel 2 sales will begin from November 1 while its bigger variant will be shipped starting November 15.
Flipkart is Google's exclusive online partner for the Pixel 2 and the Pixel 2 XL smartphones.
For the latest news , tech news , breaking news headlines and live updates checkout Gadgetsnow.com
Category: Tech World News