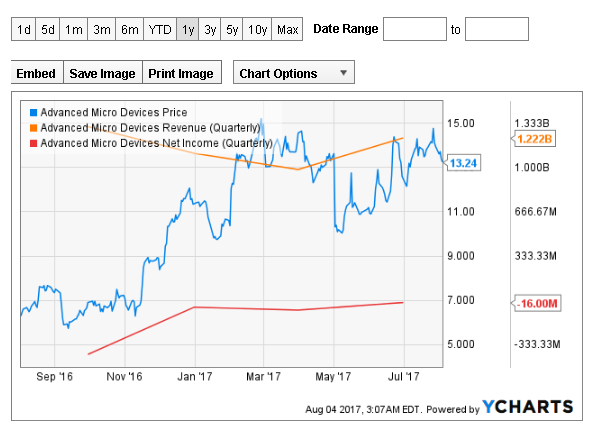 I contended before that you should bet on the long-term contribution of Ryzen processors to Advanced Micro Devices (AMD ). The release of 14-nanometer Ryzen processors earlier this year is partly why the Computer and Graphics segment posted a 51% Y/Y revenue growth in Q2 2017. This positive trend will probably continue since Amazon's (AMZN ) Hot New Releases list revealed that AMD's $999 Ryzen Threadripper (a disguised EPYC CPU) is now the No.1 best-selling new PC processor. The $109 Ryzen 3 1200 is No.2.
(Source: AMD ) It matters to me that AMD's latest high-end and entry-level processors are finding commercial success. Before Ryzen's arrival this year, AMD was only able to compete in the entry-level category for x86 processors. The Ryzen 7, Ryzen 5, and Ryzen 3 composed the first hammer that's gradually helping AMD take back market share in computer processors. The 16-core EPYC processor inside Threadripper is the second hammer that is going to hurt Intel's high-end x86 processors for workstation computers used by high-compute/creative professionals and hardcore gamers. Bringing a desktop-level EPYC processor to market is a hedge against the possibility that server-grade EPYC processors will struggle competing against Intel's Xeon. The x86 server processor market is 99% owned by Intel. It's going to be tougher to chip away at Intel's huge lead on server processors. Intel Still Has The Lead But AMD Is Hitting Right Where It Hurts Based on the screenshot below, Intel's (INTC ) Core i7-7700K is still the overall No.1 best-seller in Amazon's Computer CPU Processors category. However, AMD shareholders should take note that the Ryzen 5 1600 is now the No. 2 overall best-selling CPU processor at Amazon. The Ryzen 7 1700 is No. 5, while the new Ryzen 3 1300x is No. 7. AMD is competing on all market segments for computer processors, from the very high to the entry-level categories.
(Source: Amazon) Data from the best-selling lists of computers at Newegg.com also lists the Ryzen 7 and Ryzen 5 as among the top-sellers and best-rated CPUs. Ryzen processors getting on the best-seller lists signal the renaissance of AMD as a potent rival of Intel on x86 desktop-level processors. Why AMD vs. Intel Is More Exciting Than Mayweather vs. McGregor Based on Q2 ER slides, the Computer and Graphics Segment drove AMD's revenue growth. The segment also posted its first ever operating profit in three years. Ryzen is again partly responsible for this outstanding feat. Ryzen, not Polaris GPUs, is why AMD is now in renaissance turnaround trend. Ryzen made AMD stronger and smarter enough to hurt the undefeated, Mayweather-like reign of Intel on desktop x86 processors.
Image Source: AMD
Image Source: AMD I will be betting that the famous shoulder-roll technique of Mayweather will beat/frustrate McGregor. I also bet that AMD's always-lower-than-Intel-pricing rule will eventually help Ryzen/Threadripper increase AMD's market share to above 30% on x86 processors. Unless Intel starts releasing 10-nanometer x86 processors and/or notably reducing prices of its Core i-Series processors, AMD has a realistic chance to replicate its Q1 2006's 48.40% share of desktop processors.
(Source: PassMark) I like using PassMark's than Steam's hardware survey to gauge AMD vs. Intel share on PCs. Steam is obviously for gamers, it doesn't usually survey non-gaming PCs. Conclusion The best seller list on Amazon Computer Processors is a small but efficient way to gauge the commercial viability of new products. I am happy that American customers of Amazon have propelled Ryzen and Threadripper processors to the top of the best-selling lists. This achievement is more important than discussing benchmark scores between Intel Kaby Lake and Ryzen processors. Investors should always prioritize indicative sales metrics over benchmark scores. Reporting this achievement is more important than discussing benchmark scores between Intel Kaby Lake and Ryzen processors. Investors should always prioritize indicative sales metrics over benchmark scores. I am not happy that AMD lumped GPU and CPU sales together. It would really please shareholders to see separate numbers for CPU and GPU quarterly revenue. I know the more affordable price tags of Ryzen processors are not giving AMD the same margins like Intel has on its CPUs. However, I am more interested in revenue growth of CPUs. A comeback story is always better if AMD could demonstrate how fast Ryzen sales are growing. In this way, investors can have a real indicator to forecast the future of AMD's stock movements. Unbridled optimism cannot forever propel the high valuation of AMD. We need to see unbridled, consistent double-digit Y/Y sales growth in CPU and GPU sales.
(Source: YCharts) I rate AMD as a buy.
Disclosure: I am/we are long AMD, INTC, AMZN.
I wrote this article myself, and it expresses my own opinions. I am not receiving compensation for it (other than from Seeking Alpha). I have no business relationship with any company whose stock is mentioned in this article.
Category: Tech World News